Life's been hectic and I'm a little late on this one. And if you've read my previous posts on NCM you know this is where I get most of my bad luck out of the way. This time was no different and I have to ask myself 'NCM, why do you hate me?'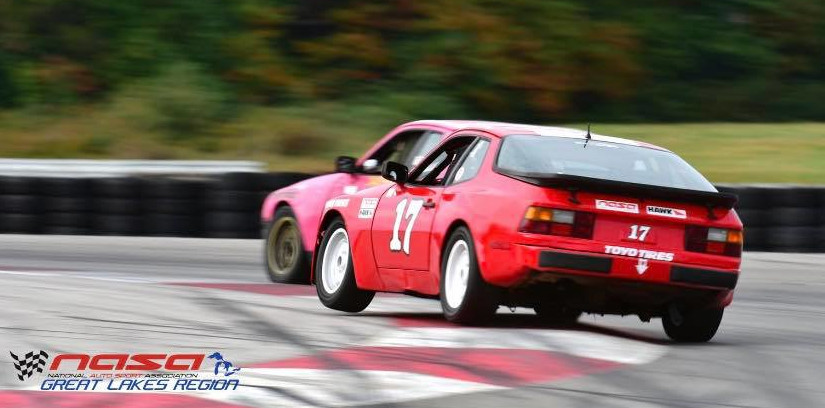 Qualifying
I couldn't make it to race 1 before the weekend got interesting. On my first hot lap the front left ball joint snapped midway through turn one. Nothing too dramatic happened. I had very little steering control, so I scrubbed speed, avoided the inside wall and limped my car to the next corner station to give a thumbs up and watch the rest of qualifying from the relative safety of my disabled car.
One of the great things about 944 Spec is we help each other out and I was fortunate enough to find a new ball joint in the competition's toolbox. Effectively saving the weekend … or Saturday at least.
Race 1
After repairing the car and giving it a quick inspection, I lined up for race 1 in last place. Unfortunately, that's what happens when you post no lap times during qualifying. I like the extra challenge though and was just thankful to still be racing instead of retiring the car for the weekend.
I worked myself up to third place before the checker flag having another close battle with James throughout most of the race. (More on this later) The description on YouTube is notated with more detail but most of the action takes place at the 3:50 and 6:10 marks. At the end an out of class car starting a cooldown run one lap early almost cost me 3rd place by backing the field back up in the esses. SMH
Race 2
This time I started p2 due to an early mechanical issue with Derreck Moorehead's car. This put me on the outside of turn 1 where I was promptly boxed out for the opening turns. James Eberlin capitalized immediately dropping me to 3rd. I spent the next few laps attempting a few passes but couldn't make it happen.
Around 6:20 Eberlin decided to do some yard work but quickly moved back on track and back in my path at the last moment. Stopping what I thought would be an easy pass for 2nd. Full course yellow from a Spec Miata incident followed leading to a typical and confusing NCM restart at 13:00.
Once again in the hunt for P2, I got a little too close at 13:40 giving James a little extra oversteer to contend with. Finally got the pass done at 14:00 with one and a half laps to go.
At this point Matt Giuffre in 1st had gapped the field … again … running away with first place and setting a new track record by a significant margin. I was able to defend 2nd place for the remainder of the race finishing with a building margin at the end.
I Think I Have a Nemesis Rival at NCM
And I love it. James Eberlin and I get along great off the track but on track tells a different story. We have a history of incidents in the Great Lakes region and although we kept it 99 percent clean this year; we still raced our asses off with the equipment we had. Having some of the best racing of the season in the process.
What makes this such a great matchup is the difference in our cars and our driving styles. As driving styles are semi-subjective, I'm going to super simplify this by saying my car has less power but handles better while the other car has more power and you guessed it. And with NCM combining a mix of straight-line speed and quick technical turns, the end result was not only close lap times, but great racing. And at the risk of ageing myself, the epic Bowser vs Toad battles from the original Mario Kart come to mind.
Sunday Not So Fun Day
Let's get on with some more bad luck.
I was super excited for race 3 Sunday. Studied data and videos the night before and was determined to find a new personal record. (No one was catching Matt) The car ran great during warm-up and after a final pre-race inspection, I added a few gallons of 'gasoline' from my final fuel jug of the weekend. The quotations are important if you don't already know where this is going.
Here I am, 5 minutes to race time, strapped in the car and it fires up just fine. Pull out of the paddock, start to head towards grid and I get about 5 feet when the car starts to stumble. Shortly thereafter it dies. A few friends run over and we attempt to bump start the car. No luck, now it's time to start checking other things as I hear the race field pull onto track for the warm-up lap.
Still strapped in the car with others frantically trying to start the engine, I finally hear the roar of engines signifying race start. I've officially missed the race and disembark to help with the trouble shooting process. All the usual suspects check out and it starts to look like the gas is bad. More specifically, I somehow have water in the fuel. We drain the tank and find about 2.5 gallons of water. Verifying that the fuel jug I used pre-race had a 50/50 fuel/water mix.
This is where things get a little weird. I went into the weekend with four fuel jugs that I filled up at the gas station outside NCM. I used 3 of these jugs successfully Saturday leaving a final jug for Sunday. The final jug was left unattended Saturday night. I'm left with a few scenarios to consider.
A) One of the jugs was half filled with water before being filled at the gas station. I then proceeded to pick between the 4 jugs perfectly all through Saturday leaving the bad gas for use Sunday. I consider this unlikely as I would have noticed a half full jug when loading up. But since I live on a small hobby farm and do use similar (albeit marked) jugs to transport water from time to time, I can't 100 percent rule out human error on my behalf.
B) Someone is an idiot and is running around with fuel for coolant. Unlikely unless they lost their sense of smell from a recent bout of Covid. This is the least likely as I doubt said person would go through the effort to top the 'water' in the jug back off seeing as it's readily available at the racetrack.
C) Sabotage! This isn't unheard of, even in club racing, but it is extremely rare. Not a lot more to say on this one.
Regardless, even though it's fun to speculate, I was left with a crippled car that required a new fuel pump and a full fuel system and tank cleaning before it would run right again.
Conclusion
Again I ask, 'NCM, why do you hate me?'
I can't complain too much though. I landed on the podium in both races after some very close and exciting racing. And although Sunday left me with a crippled car (once again) I will still be back for more.