World Wide Technology Raceway or WWTR is located just outside St Louis on the Illinois side of the Mississippi river. Previously known as Gateway due to it's proximity to the St. Louis arch. The main track is a NASCAR oval with an infield road course section.

This was a new track for me and my fist time running a roval. A nice blend of the word road and oval denoting a setup that uses a portion of the banked oval surface linked together on each end by a series of infield turns. Thus creating a uniquely American style of road racing course.
As for my impression, I freakin loved it. This track is old and gritty and full of high risk, high reward turns as you are surrounded by concrete walls the whole circuit. And this track is a giant autocross in the infield rewarding drivers willing to muscle and throw the car into the turns. Downforce and horsepower cars getting gobbled up in the infield as those sliding their cars on the limit of mechanical grip proved the fastest. Then onto the oval straight where your foot stays buried well into triple digit speeds before starting the process all over with an aggressive entry to turn one.
In 944 spec this process took 1.13s and the thirty minute race times combined with the aggressive infield yielded some very intense and exhausting races.
Race 1
I had a killer start during race 1. Jumping from p3 to p1 by turn 1. Unfortunately, I made a mistake early on and was unable to hold the position, dropping back to 3rd. Tim Pruitt (p1), with slightly more pace than Stu Jones (p2) and myself, now p3, pulled a significant lead while Stu and I battled for 2nd place.
I chased Stu for half the race and we started trading positions a few times towards the end. I noted that I would lose a little in 5th gear but make up for it at the start of the infield. After successfully passing for second after a stint in his draft and getting pinched towards the wall on the way to turn 1, I took 2nd place only to lose it a couple laps later when Stu made a very bold move into turn 1. I had noted that his tires were done at this point so I figured I would get him the next go round and take the checker in 2nd place. My cool shirt cooler had other plans.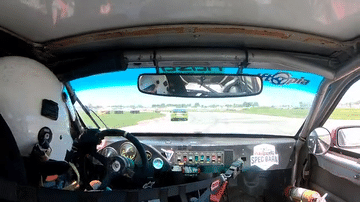 I was on a tear at this point knowing that 2nd was mine as Stu's car struggled into the turns with overheated rear tires. When suddenly I experienced abrupt and violent snap oversteer into turn 2. I kept the car pointed in the right direction but not before running sideways over the ridiculously high curbing at turn 3. Convinced my car was damaged and having yielded precious seconds on the last lap, I limped my car across the finish in 3rd place. Looking in my rear view the whole time hoping the mid pack didn't catch up. Luckily, I had enough of a gap by race end to get away with this incident.
On to the cool shirt. Upon entering the paddock I found my cooler had sprung a leak and said leak was draining into the floor board drain hole just forward of the right rear tire, dousing the most loaded tire on this circuit with fluid while driving 10/10ths. All things considered, could have been much worse.
Race 2
These races were hot and brutal so I taped every surface the cool shirt could drain from. This includes the seam around the cooler and the floor board drains. I thought I got all of them until I saw what looked like a wave pool on the passenger side every time I hit the brakes. I also noted that my grip on left handers still felt off. Especially on the banking. So yep, leaking again. Meaning I drove more conservative, placing the car in a comfortable 3rd with a very competitive but not all out pace.
After race inspection showed I have way more holes in the floorboard than I thought and water was still dripping in front of the rear wheel, although at a much reduced rate.
Race 3
How about no issues this time so out with the cool shirt. I'm gonna let the video do most of the talking for this one. Stu and I had one of the best battle of the season thus far. Two people pushing themselves and their cars to the edge over a single position. What more can I ask for. We were racing with such intensity that traffic moved out of our way. Hell, even a thunder roadster decided not to mix it up with us on the last lap and that speaks volumes. And after slightly better tire management I finished this race in 2nd place with a huge grin on my face. Enjoy!