It's that time of year again to play in the summer heat of New Orleans. Every year tells a different story making this event one of the highlights of the Mid South calendar.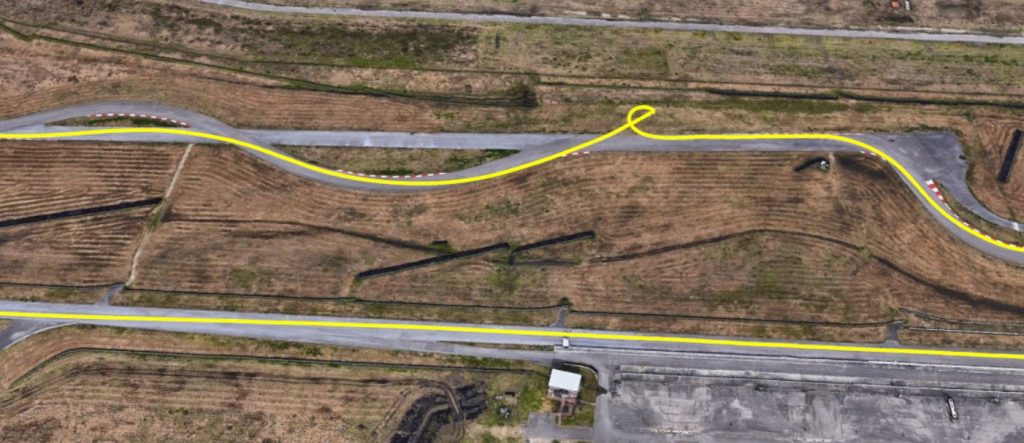 Attrition
This year's theme was attrition. V and I went down early and enjoyed a much needed mini-vacation. Once we arrived Tuesday, I watched competitor after competitor withdraw. Two with tow vehicle issues, one before the event and one stranded on the way. Then one with a family emergency and one or two no shows. What started out as a potential 6 – 8 car 944 Spec field quickly shrank to 2.
Saturday Story Time
The track didn't disappoint though. After enjoying 3 days with beautiful weather in the French Quarter, rain promptly moved in on the eve of race day.
With constant rain through Friday night into Saturday morning, the morning track sessions were cancelled. This included warm up and qualifying for race 1. The decision didn't match the conditions in my opinion. Regardless, it wasn't my decision to make.
I say that because looking at the forecast, we were convinced the whole day would get cancelled. Heavy thunderstorms were projected to move in after lunch and if light rain ruins the morning …
And that was the big question. It's 8 AM, the morning's cancelled and a noon meeting decides the fate of the afternoon. That leaves 2 options, sit around in the rain for 4 hours waiting for the likely announcement of a full rain out or head back to the French Quarter, enjoy a nice brunch on Jackson Square and see where the day leads.
Seemed a simple choice at the time although the day eventually leads us back to the track.
I say all this because it took a while to make it to brunch at Monty's on the Square because a certain time trial racer with was being particular with his car and took an hour to get ready. He also happened to be our ride. I got hangry, threatened to Uber and we were off.
So there we are, enjoying a nice relaxed brunch with a perfect, New Orleans Sazerac when the text comes across. 'Racers, race 1 qualifying in 30 minutes.' … s###… looks like I'm starting last.
We cancel round two, finish our food and head back to the racetrack. I now have a race in 2 hours.
Saturday Races
Race 1 takes place in moderate rain running the new 'bus stop' configuration. With no warmup and a missed qualifying this would be my first time on track at NOLA in a year.
I'm pretty comfortable racing in the rain these days and had an excellent start from last place. Passing several cars and gaining the lead in 944 Spec by turn 1. Which I promptly lose when I lock up at turn 4 taking a brief detour in the grass and yielding all the positions back.
But I had pace in the wet, took back position after a couple laps and drove a quick and consistent race taking first place in 944 Spec and hard charger in Race Hero.
Race 2 was uneventful with myself taking an early lead on a dryer track and keeping all the wheels on the asphalt this time.
Sunday Races
I don't drink much these days but New Orleans is one of those places where it is a little too easy to have one too many with friends. I'm not implying the hungover/sick one too many but the, 'I'm dehydrated and have to race in 90 degree heat with 100% humidity' type of one too many.
Sunday's race was slated for 10:10 when I went to sleep Saturday night. I woke up to a text blowing my rehydration plans out of the water with the new start time of 8AM.
It was probably 7:15 when I got the message. The change was made to allow the final race of the weekend to take place on a mostly dry track before another round of storms moved in mid morning.
Now I'm chugging water and Gatorade while throwing a few handfuls of nuts in my mouth before rushing out of the motorhome to put the dry tires on the racecar, make the driver's meeting, suit up and hit the tarmac. I made it … barely and ran out of time to get the cool shirt going.
What followed was a 30 minute race on a mostly dry NOLA Motorsports Park with varying degrees of puddling around the track creating fast and dynamic track conditions. Overall I took an early lead and went four off after a few laps coming out of the bus stop. I was increasing speed throughout the section when I understeered slightly and was heading straight towards the curbing on the puddled side of the exit. Braking would have spun me so I held on unable to tighten the line. Once again watching the competition pass by as I crept out of the grass. I reeled everyone back in ultimately finishing first in class with a 7 sec lead.