After the ridiculous highs and lows of last year, both on and off the track, the only thing that comes to mind after this weekend is a Forrest Gump quote about a damn box of chocolates. At this point I just have to roll with the punches and although the NOLA season opener in 944 Spec wasn't the one I wanted, it's the one I got.
NOLA in February
Before I get into the drama and my 'epic' story of overcoming adversity at the track, let's talk about NOLA in February. Our typical schedule was moved around a bit for 2022 to avoid some of the brutal weather we are prone to at MIR (Memphis International Raceway) this time of year. MIR can experience anything from ice storms to flooding in February and it made sense to go ahead and race in New Orleans when conditions are milder. As in not the sweltering heat of summer.
Conditions were so mild that a few of us tent camped at the track and enjoyed temps in the low 70's throughout the weekend. Perfect racing weather. This was also the first time I tent camped at the track and I plan on doing it a few more times this season as weather permits.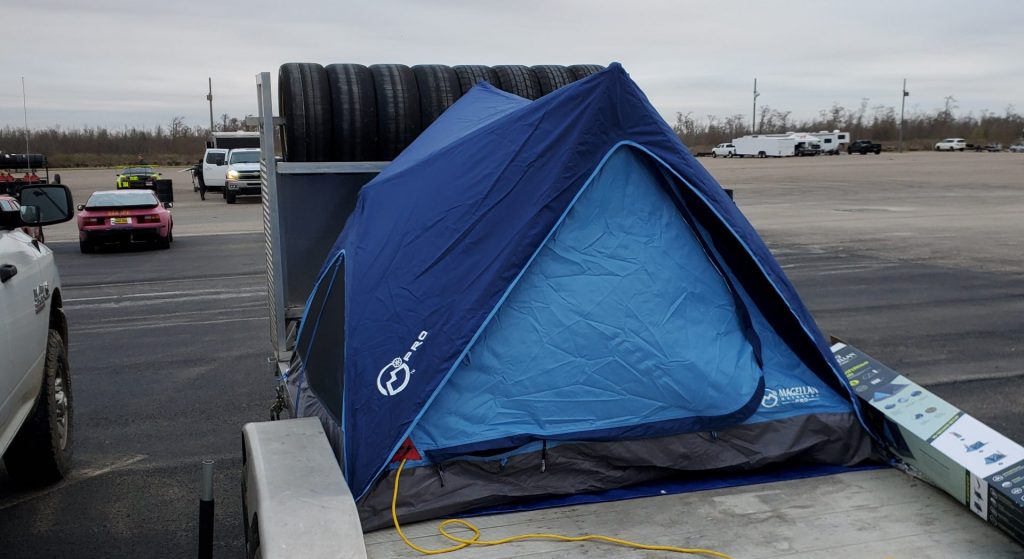 That's Not Supposed to Break
Now for the racing.
The off season felt exceptionally long this year and although the driver was willing the car was not. The car was so unwilling that it snapped a control arm on lap one of warm-up. This immediately felt like a terminal failure.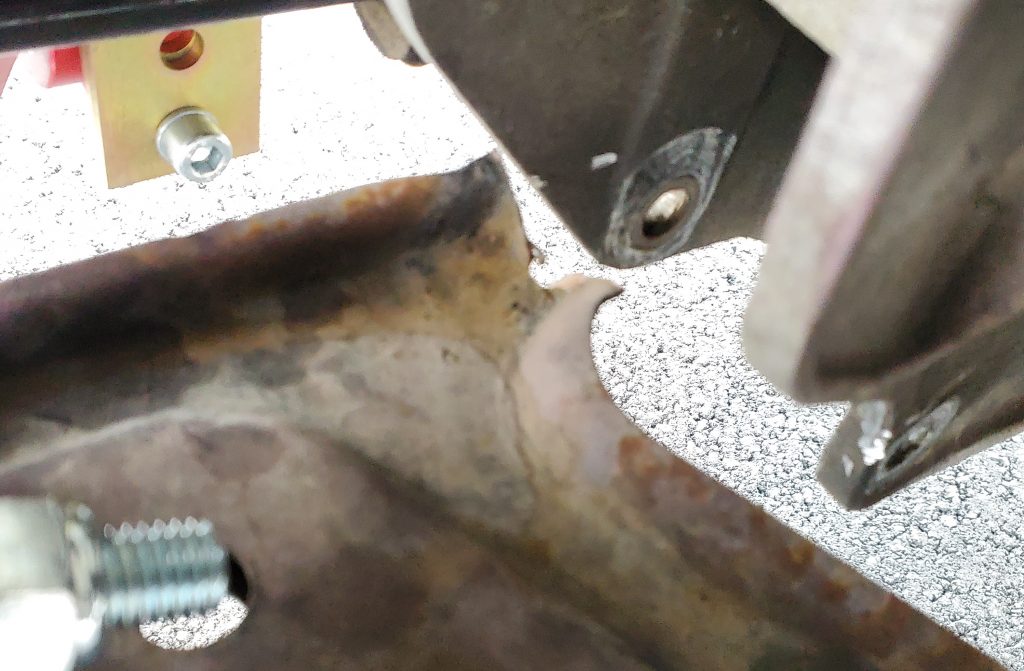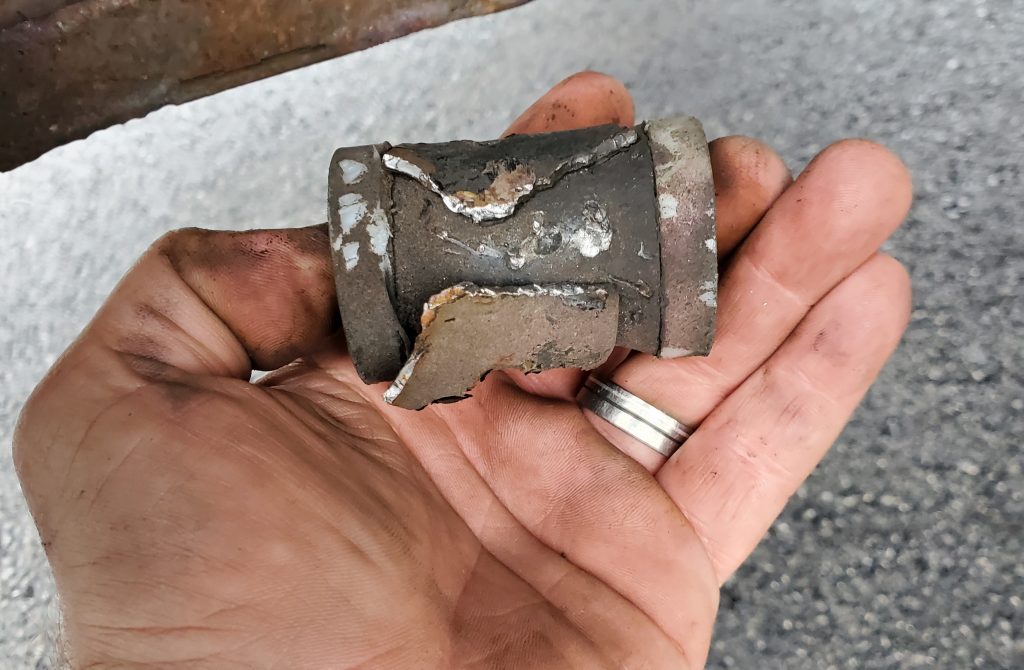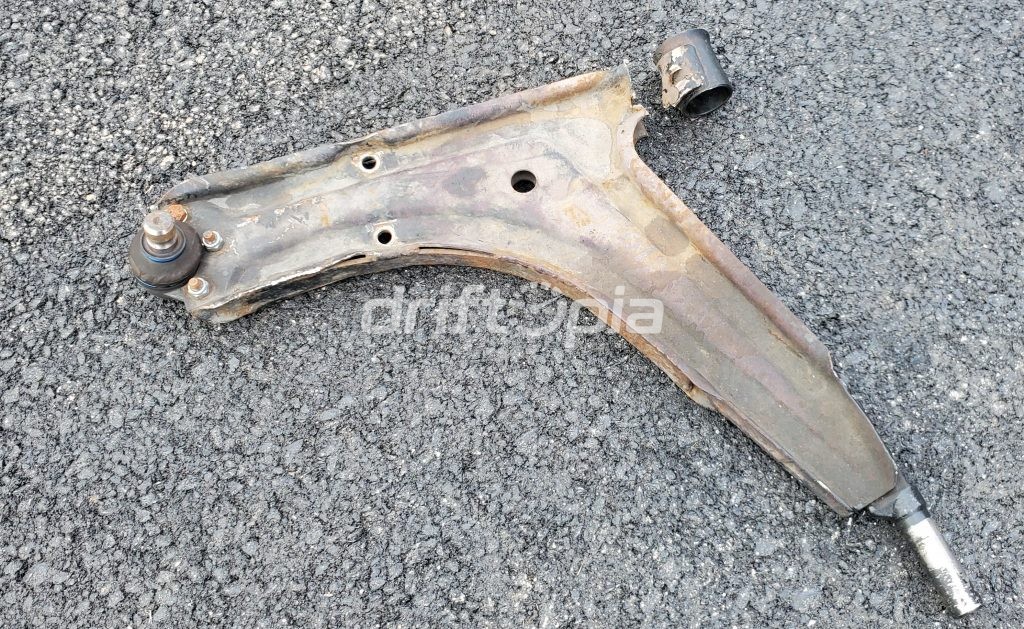 Being an antique, replacement parts are somewhat hard to find on short notice for the Porsche 944. But what we lack in availability, we more than make up for in community. In fact, after diagnosing the issue, everyone immediately checked their on-site spares to see if a driver's side control arm could be sourced.
No luck.
Then the 944 Spec phone tree started contacting locals who may have replacement parts.
Still no luck.
Finally we went with plan C. Unable to replace like for like, rookie racer and NOLA local Thomas Craine, had aluminum control arms available at his house and would run and get them after qualifying. This wouldn't be the ideal solution as I run early, steel control arms. (you know the one's that aren't supposed to break) But it was 'A' solution and MAY get me on the track for the contingency race later in the afternoon. I will take it.
Time to Wrench
With the aluminum control arms in hand I had a lot of work ahead to fix the car in time for the 3pm race. A few issues were immediately apparent. Dimensionally, the aluminum control arm would work but the sway bar mount and rear facing chassis mount points were different.
The solution to the sway bar was simple, just run without it. (More on his later) But the solution to the rear chassis mount took a little more effort. Namely, a trip to the Home Depot Racing department to pick up a 5″ long 3/4″ bolt to run through the rear mount of the control arm and through the bushing. As this bolt would have to act as a bushing itself, everything was generously lubricated before bolting everything down. This wasn't an elegant or long-term solution, but it was functional and would get me on track.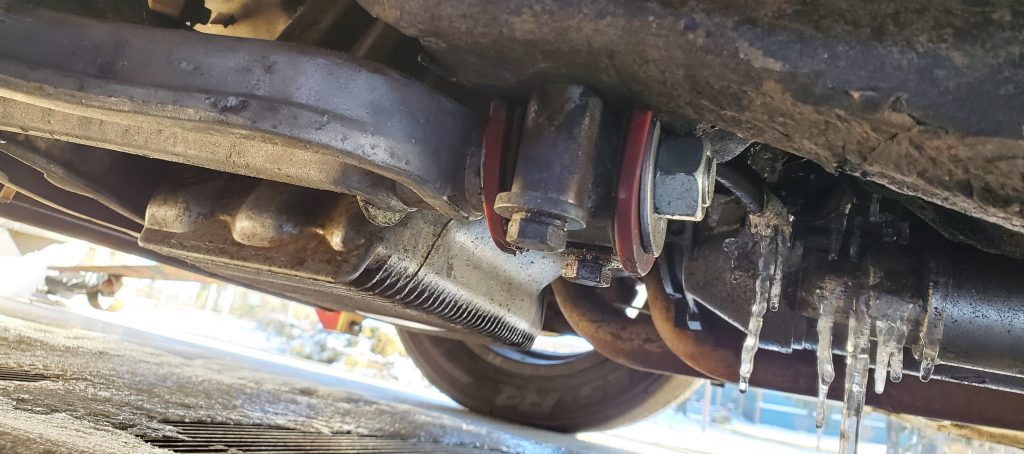 Back to the front sway bar. If you recall from last year, I had the front sway bar disconnect on me during a race resulting in a severely unbalanced car. Knowing that I didn't like running with just the rear bar attached, I decided to remove it as well.
Time to Race
I knew this would be an interesting one. Here I am, throwing myself into a race after no warmup or qualifying with a car of unknown handling due to drastic suspension changes. If that wasn't enough, the race would be a mixed field, single start with myself dead last. But the fun didn't stop there. I had the Spec Miata field between myself and the 944 Specs. And with this being my first time behind the wheel in months, I had significant work to do. So in true 944 Spec style, it was full send time.
How does first place sound? Well it sounds pretty good to me. The most difficult part for me was the 'I'm racing again' moment I had as I literally went from off season to race season at the drop of the green flag. No warm up, no qualifying just get your head down and get the job done.
I could tell immediately the removal of both sway bars was the right choice. Although the car handled different from what I am used to, it was much more controllable than having the rear only connected. What I did notice was that I was slightly slower through the mid speed sections, about the same in the tight stuff and faster in the high speed esses. Resulting in enough pace to make my way through the Spec Miata field quickly and zero in on the 944 Spec race leader, Shawn Taylor.
Race footage below.
Race Notes:
Start – backed up at the start away from the main pack.
.21s – pass 1
.50s – Corvette spins
1.36: – pass Spec Miata 1
3.03 – pass Spec Miata 2 (slight delay due to yellow flag 'kinda displayed' at corner station)
4.15 – pass Spec Miata 3
10.30 – closing the gap and starting to engage with P1
12.42 – it's on now
13.10 – stay focused and try not to drive into the wall
16.01 – trying to make something happen
19.00 – almost
20.57 – lap traffic gave P1 a temporary breather
23.50 – white flag (can I make it stick?)
24.20 – lockup and pass for P1
25.59 – checker flag and race win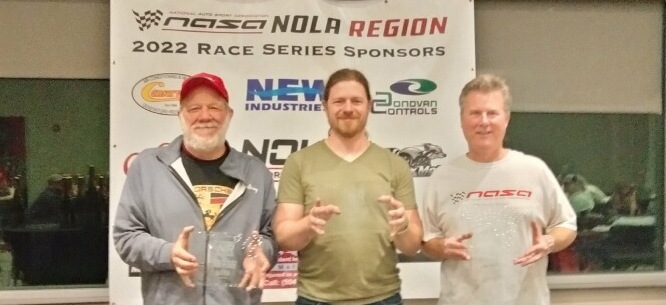 Sunday – Race 3
Where Saturday was full of ups and downs, Sunday was just down.
I love racing in the rain and I was more than ready after watching the track get drenched all morning. Everything was good on the out lap. Then the green flag dropped and I'm met with a rolling roadblock of cars too timid to start the race. I honestly don't know what this was about but I was stuck behind a wall of cars going what felt like 5 mph. Shortly after, my car gets soaked by a wall of water and when combined with the slow speed, also soaked something electronic. I was left with an at first, intermittent throttle and then a car that wouldn't rev past 2k after turn 1. Resigned to my fate, I limped the car to an access road through a combination of slipping the clutch and bumping the starter. I spent the next 30 minutes watching the race from the best seats in the house.
Footage below of the quickest I've ever lost a race.
That's it for the season opener at NOLA Motorsports. Needless to say, I have a bit of work to do before the next event at the National Corvette Museum in March.