I used to autocross a lot until I started wheel to wheel racing. Autocross is more available, cheaper and much less demanding on resources. It may not be as exhilarating as racing; but it is a great way to learn and practice car control, hang out with gearheads and in my case … finally test the Lotus.

Background
I finished the Lotus a while ago but haven't really done anything with it so I decided to attend the Mid-South SCCA event in June to shake it down. This would be my third event in a row after racing 944 Spec at NOLA and Road Atlanta. Quite a nice change of pace and also my first autocross in over 2 years.
Can the Lotus Elise survive an easy test day?
The short answer is no. The car rode on the trailer to the venue great. Rolled off the trailer with ease. Drove around the parking lot with purpose. Waited in line for the first run like a champ and then … promptly started puking coolant when it was go time.
The whole scenario went like this:
Turns out I had lost a coolant cap and was pouring coolant out the block. The engine didn't overheat so I drove the car over to the side lot. In the process, I did manage to put just enough slippery coolant on the start line to give everyone a little extra wheel spin on launch.
Enter the Caterham
At the end of the above video, I park the Elise in front of quite a unique car. A Caterham (Lotus) 7. These cars come in so many different configurations that I won't get too detailed on specs. I was told it ran roughly 130 hp and weight 1000lbs. A giant go-kart.
This particular car belongs to Andrew Lydecker, a friend and the gentleman warning me that I was about to blow my headgasket on the Lotus … again. I did what any sane gearhead would do in this situation and asked if I could use his Caterham for the event. He didn't hesitate and I was over the moon at the chance to drive the car that is the epitome of Lotus. Simple and light.
I hopped in, belted up and looked for the ignition for what seemed an embarrassing amount of time. Andrew eventually walked over and showed me how to start the car. (ignition was hidden under the dash) Andrew gave me a few pointers about the car. I'd need to drive barefoot so I could activate the gas and brake separately as the pedal box was super narrow and I needed to watch out around the side exit exhaust on the passenger side. I could have used that last one a few minutes earlier as I already burned my shin on the muffler. Good news, you only need to learn that lesson once.
Time to Run
It's been years since I autocrossed and time spent wheel to wheel racing has somewhat numbed my sense of speed in certain situations. My expectations were to have fun and that's what the Caterham delivered.
Just raw fun. And unlike modern cars, the Caterham simply communicates its intent to the driver. No power anything just minimal weight and no nonsense. By run two I was hanging the rear end out through the transitions more akin to a drift car much to the detriment of my course time. But after every run I could sense the huge grin I wore under my helmet. Andrew could tell, taking a photo of 'the moment Chris decided he wants a Caterham.'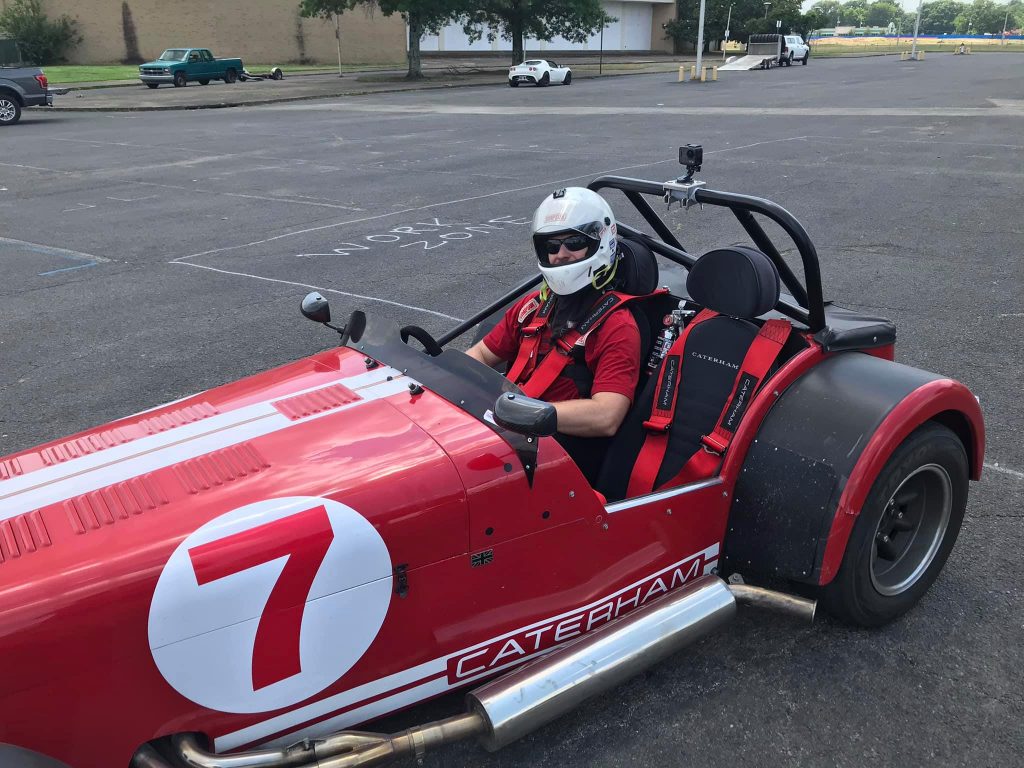 Round 2
I can't attend a timed event without being competitive. I had my fun during the morning session and it was time to drop time during round two. Specifically, to see how close I could get to the owner's times. Andrew is one of the usual suspects for FTD at autocross. (Fastest Time of the Day) So I had some work to do. With only four runs in the afternoon, I was dropping one second each run til I arrived at my last run a little under 1.5s off Andrew's pace. On the last run, everything was coming together for a blistering time when I hit terminal understeer halfway through the run. I instantly knew the run was bust but I still came back in with that same grin.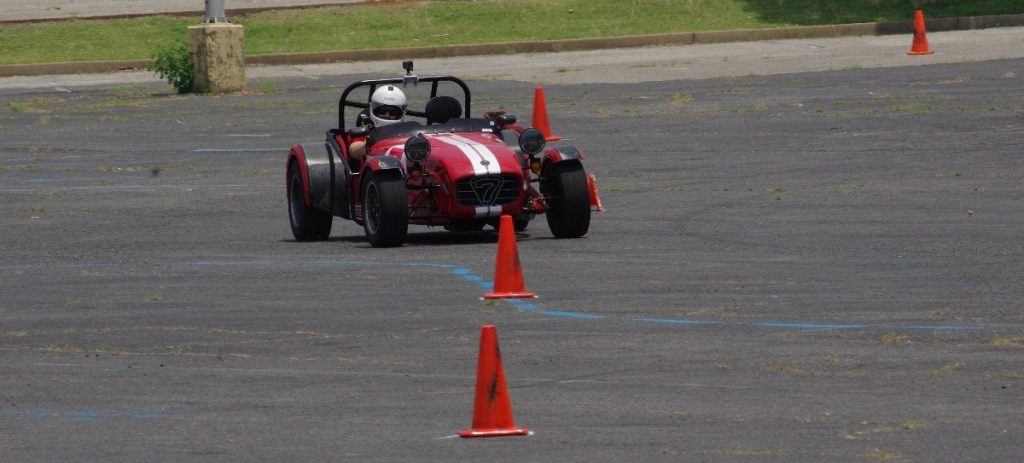 All things considered, a little over a second away from the front runner in a new to me car is a pretty great result. This was also my first time driving RHD and it wasn't near as difficult as I assumed it would be. I can't wait to get the Elise properly sorted so we can do a proper comparison between the Caterham 7 and the Lotus Elise.
A little BRZ autocross action for old times sake.